May 29 2013
4
29
/

05
/

May
/

2013
17:03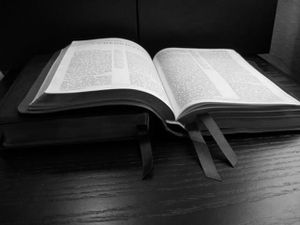 Unless otherwise noted, all scripture quotations are from the American Standard Version.
I have been struck this year by the amount of tragic innocent death that we have had in our community let alone the senseless deaths we have seen in the media. Every year in this community we have aging grand parents or friends who live into their eighties who may die. We cry, and we feel sadness for their death, but we often feel secure knowing that at least these individuals lived a long and fulfilled life. As we are on this earth, we are told:
"Whatsoever thy hand findeth to do, do it with thy might; for there is no work, nor device, nor knowledge, nor wisdom, in Sheol, whither thou goest" (Ecclesiastes 9:10).
However, how does one understand the death of a baby or a 4 years old child? Is this something willed from God to test or to tempt us? Those who say "God is good" after a death of a loved one are applauded and often congratulated for their "strong faith." [I am not sure if I completely understand this statement at a time of great tragedy, but I will give my reflection of how I believe to understand what God's Word tells me about God.] What about the person who questions whether a "good god" would take innocent lives to be with Him just because He feels like it? Or what kind of "good god" would allow for a young boy to watch his mother suffer a slow death to cancer in order to proclaim His glory? Does death and suffering truly glorify God? I have something to say: I do not believe that a "good god" would ever take a loved one to be with Him. What would God gain by taking a child or a mother who deserves to remain on the earth with their loved ones? How do we understand the following passages about the dead and where they go after death?
"For the living know that they shall die: but the dead know not anything, neither have they any more a reward; for the memory of them is forgotten. As well their love, as their hatred and their envy, is perished long ago; neither have they any more a portion for ever in anything that is done under the sun" (Ecclesiastes 9:5-6).
"For that which befalleth the sons of men befalleth beasts; even one thing befalleth them: as the one dieth, so dieth the other; yea, they have all one breath; and man hath no preeminence above the beasts: for all is vanity. All go unto one place; all are of the dust, and all turn to dust again" (Ecclesiastes 3:19-20).
"What man is he that shall live and not see death, That shall deliver his soul from the power of Sheol? Selah" (Psalms 89:48).
" For in death there is no remembrance of thee: In Sheol who shall give thee thanks?" (Psalms 6:5).
"The dead praise not Jehovah, Neither any that go down into silence" (Psalms 115:17).
"What profit is there in my blood, when I go down to the pit? Shall the dust praise thee? shall it declare thy truth?" (Psalms 30:9)
"For Sheol cannot praise thee, death cannot celebrate thee: They that go down into the pit cannot hope for thy truth. The living, the living, he shall praise thee" (Isaiah 38:18-19)
What has God to gain by smiting loved ones in order to be with Him? Does God tempt? If we read James it says: "Let no man say when he is tempted, I am tempted of God; for God cannot be tempted with evil, and he himself tempteth no man" (James 1:13). Therefore, no, God does not tempt us. However, is death from God? I am going to say no. Death is not from God nor was it ever God's will in the beginning. God made our bodies (in the case of Adam and Eve) to live. Adam and Eve had eternal life in the Garden of Eden and their bodies were perfect without sin. Their bodies were made to not die. Nonetheless, God gave them instructions, which were to not eat from the tree of the knowledge of good and evil "for in the day that thou eatest thereof thou shalt surely die" (Genesis 2:17). God asks for obedience. God did not tempt Adam and Eve and they made a choice. God could have made us as robots, but what kind of meaningful love or faith for God would that make. Meaningful love comes from the heart and even God desires this kind of love. Nonetheless, Adam and Eve did not die right away. Adam lived to be 930 years old (Genesis 5:5). If our bodies were poorly made, Adam would not have lived for as long as he did. This innate desire or force to live is in everyone of us no matter how old or young. This force comes from God's breath of life (ruach) found in every creature on the earth that eventually lost its strength with each successive generation after Adam. "And Jehovah said, My spirit shall not strive with man for ever, for that he also is flesh: yet shall his days be a hundred and twenty years" (Genesis 6:3). What do we see today? Mankind lives to at most 100 to maybe 110 years. Exactly as God's Word says. That's why Adam lived so long and much of his offspring lived a long time however, each successive generation after Adam lived fewer and fewer years. The consequence of Adam and Eve's choice was nonetheless death. Eventually, even Adam after 930 years died and became just as the Bible says: "a breath."
"Man is like a breath; His days are like a passing shadow" (Psalms 144:4 - NKJV).
What sadness! We are now still living under the consequences of that choice that Adam and Eve made. "For the wages of sin is death" [but the free gift of God is eternal life in Christ Jesus our Lord] (Romans 6:23).
"Therefore, as through one man sin entered into the world, and death through sin; and so death passed unto all men, for that all sinned […] Nevertheless death reigned from Adam until Moses, even over them that had not sinned after the likeness of Adam's transgression, who is a figure of him that was to come […] For as through the one man's disobedience the many were made sinners, even so through the obedience of the one shall the many be made righteous" (Romans 5:12, 14 and 19).
Through one Man's obedience, (Jesus Christ) many will be made righteous. Christ was obedient to His Father until death and He was the only sacrifice to best make the atonement for Adam's sin. Jesus Christ had to be sent in order to deliver mankind from the wages of sin, which is death: a plague that has haunted mankind since the Garden of Eden.
Jesus himself expresses strong emotions with regard to death. One of the shortest verses in the Bible is "Jesus wept" (John 11:35). Jesus saw the sorrow of his people and he had also lost his friend. But Jesus most likely also wept because he knew that in the beginning His Father never purposed death for man. Imagine if you knew what it could have been like to have no death and you see what death has done. Jesus could weep because he knew what life could have been like for mankind. Jesus through his groaning and (I imagine) tears prayed to His Father and raised Lazarus from the dead. Lazarus had been dead for four days; long enough for the Gospel of John to describe that there was a "stench" coming from the tomb (John 11:39-44 - NKJV). Once Lazarus was resurrected, Jesus thanked the Father for hearing his prayers. What does Lazarus' resurrection proclaim? It proclaims that God will resurrect our bodies from the grave even if our bodies have returned to the dust or have rotted. God showed us this through Jesus Christ the power of the resurrection when Christ was dead in the tomb three days and three nights. "But God will redeem my soul from the power of Sheol; For he will receive me. Selah" (Psalms 49:15).
How can we explain one reason for death and suffering the world? It is the consequence of sin and man's disobedient nature that is in the world. Sin and man's disobedient nature is not something from God. "Death reigns" because of Adam and Eve's choice. Now how do we explain Job who was hit by tragedy after tragedy? Did God cause Job's suffering? Remember we have another adversary in this world and that is the devil who lied to Eve about death saying: "Ye shall not surely die" (Genesis 3:4). In the case of Job, it is an example of how God allows suffering and allows Satan to roam the earth for a time. The story of Job is special in that it shows how a very righteous and faithful man of God loses all his wealth, and his family, in one day. He later loses his health and the support of his wife. God throughout Job's entire ordeal of suffering remains silent. Job struggles to understand his suffering but he never rejects God. Job's story sends an intriguing message: it sets out to establish the justice of God in His dealings with men, particularly God's relation to human suffering. Does God manage this world well and what does our suffering say about God? These questions are answered in the end: God is there with us even in suffering and He is not unjust or unloving. Nor is He incapable of dealing with the problem. There are good explanations for God's silence amidst adversity.
We know that Satan is in full rebellion against God and he hates anyone who wishes to serve God. The "god of this world hath blinded the minds of the unbelieving" (2 Corinthians 4:4). Job never thought that throughout all of his suffering that Satan was the true cause for his suffering. For often even we forget that "our wrestling is not against flesh and blood, but against the principalities, against the powers, against the world-rulers of this darkness, against the spiritual hosts of wickedness in the heavenly places" (Ephesians 6:12). We must not forget that humans are not alone; there are things taking place elsewhere that we cannot necessarily see. Satan challenged God by saying that man was (is) no good and God took up Satan's challenge. God allowed Satan to take control of all Job had, but Satan could not lay a hand on Job's life (Job 1:12). And throughout Job's suffering he never charged God for any wrong nor did he curse God (Job 1:22). God has faith in his creation (mankind) "who was made a little lower that the angels" (Psalm 8:5 - NKJV). God believes that man is capable of doing good and capable of being obedient to God, so He wants to give everyone a chance. Through Job's suffering, God showed Satan what man was capable of in order to shame Satan. God shamed Satan again through Christ's obedience unto death on the cross. God's silence towards Christ's suffering on the cross is comparable to Job's suffering. After Job's suffering, God speaks and Job learned fully that he also had some misconceptions about God. God was not happy with Job's three friends who tried to help Job, because they were saying things that were not true of God. There is divine punishment in the Bible, however, throughout the Old Testament, when God does proclaim death/suffering as punishment, often the person or nation is fully warned ahead of time. God does not hit anyone with death without first clearly explaining why He is punishing. I also have reason to believe that Satan no longer has free access to go to heaven to visit God and His angels when he feels like because of what Revelations 12:9 says. This means, that Satan is running the show on earth and the only way he can get to God is through wrecking havoc on God's creation.
Therefore, there is also another reason for death and suffering in this world. It is Satan who "as a roaring lion, walketh about, seeking whom he may devour" (1 Peter 5:8). Jesus also referred to Satan as the "prince of this world" (John 12:31; 14:30). Does this mean that God is not in control? In an "ultimate" sense of control, yes, God is in control. "Every good gift and every perfect gift is from above, coming down from the Father of lights, with whom can be no variation, neither shadow that is cast by turning" (James 1:17) - this does not mean that bad things also come from God. However, God has allowed Satan on the earth for a time, but his time is short and he knows it (Revelations 12:12). God wants a good life for His people: "For I know the thoughts that I think toward you, saith Jehovah, thoughts of peace, and not of evil, to give you hope in your latter end" (Jeremiah 29:11). God says: "Behold, that which I have seen to be good and to be comely is for one to eat and to drink, and to enjoy good in all his labor, wherein he laboreth under the sun, all the days of his life which God hath given him: for this is his portion" (Ecclesiastes 5:18). God wants good things for those who love Him, but He cannot promise that the road will be easy. He does promise us that we can trust Him and He will be there with us even when He is silent. We must trust God's truth. We must trust God and not lean on our own understandings (Proverbs 3:5).
So, what is our hope? Our hope is in the resurrection of the dead. Job believed that his body would one day be resurrected:
"But as for me I know that my Redeemer liveth, And at last he will stand up upon the earth: And after my skin, even this body, is destroyed, Then without my flesh shall I see God" (Job 19:25-26).
"Oh that thou wouldest hide me in Sheol, That thou wouldest keep me secret, until thy wrath be past, That thou wouldest appoint me a set time, and remember me! If a man die, shall he live again? All the days of my warfare would I wait, Till my release should come" (Job 14:13-14).
Job understood that one day he will live again and he will be changed. Thanks be to God through His Son Jesus Christ who destroyed the power of death in the grave: "that through death he might bring to nought him that had the power of death, that is, the devil; and might deliver all them who through fear of death were all their lifetime subject to bondage" (Hebrews 2:14-15). Through Christ's sacrifice, a sacrifice equivalent to Adam's sin, the free gift of salvation came to all men resulting in the justification of life (Romans 5:18). So, we now have hope in the resurrection where one day Christ will return and this earth will be renewed. Think of the beauty you see now and imagine how much more glorious eternal life on this earth will be: "death shall be no more; neither shall there be mourning, nor crying, nor pain, any more" (Revelations 21:1-4). God is definitely good; only He is good. He created this earth, this universe, and He has given us life. He loves this world so much that He gave is only begotten Son (John 3:16). To the goodness and glory of God's name, He is not the cause of suffering or death. The events that we see or experience in this world is the consequence of sin, man's disobedience and Satan who is the ruler of this world for a time. May we continue to pray to God the Father through His Son, Jesus to give us strength in times of prosperity and in times of hardship.