June 24 2010
5
24
/

06
/

June
/

2010
17:48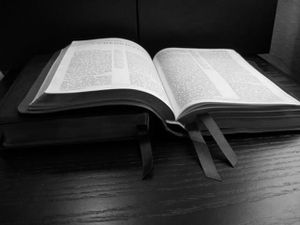 Unless otherwise noted, all scripture quotations are from The New King James Version.
Have you ever had an important appointment to fill, one that meant very much to you in years to come? How did it affect your other business affairs of lesser importance? Do you remember how you planned to let no other affairs interfere with your being there at the proper place and time? For days you planned and worked, with that appointment the center of all your aspirations. Perhaps it was the opportunity of a life time. To have missed it would have meant immense loss and disappointment.
Did you ever stop to think that Yahveh has some appointments that you must meet? There are two that you cannot escape, and there is one that He invites you to make with Him. If you meet that appointment you need not fear the others, for you will meet them in peace.
The Two Appointments
"And as it is appointed for men to die once, but after this the judgment" (Hebrews 9:27). Here they are: death and judgment. You must face them both.
Let us consider these appointments. Are you prepared to meet them? Would you be ready to answer before God should death call today?
A Time of Judgment
"I tell you, no; but unless you repent you will all likewise perish" (Luke 13:3).
Yahveh, our God ". . . has appointed a day on which He will judge the world in righteousness by the Man whom He has ordained. He has given assurance of this to all by raising Him from the dead" (Acts 17:31)
Today is the day of mercy, but
". . . we must all appear before the judgment seat of Christ, that each one may receive the things done in the body, according to what he has done, whether good or bad." (2 Corinthians 5:10)
"For the wages of sin is death…" (Romans 6:23)
"...The soul who sins shall die" (Ezekiel 18:4)
"For whoever shall keep the whole law, and yet stumble in one point, he is guilty of all." (James 2:10)
"for all have sinned and fall short of the glory of God" (Romans 3:23)
"...death spread to all men, because all sinned" (Romans 5:12)
The only way to get the pardon of our sins and a right to the resurrection to eternal life is through repentance, faith in Christ, and baptism (Acts 2:39).
"Let us hear the conclusion of the whole matter: Fear God and keep His commandments, for this is man's all. For God will bring every work into judgment, including every secret thing, whether good or evil." (Ecclesiastes 12:13-14)

You may hide your sins from man but God has them on record, and some day not far hence when Jesus comes, your life will be as an open book held out before you. Will it mean life or death?
A Choice to Be Made
You now have the power of choice. God has set before you ". . . life and good, death and evil" (Deuteronomy 30:15).
He is "...not willing that any should perish but that all should come to repentance" (2 Peter 3:9).
Jesus died for your sins (Hebrews 2:9). Only through Him can we receive forgiveness and purification (Ephesians 1:7).
"Nor is there salvation in any other . . ." (Acts 4:12)
You now have the opportunity to get your past record erased and made white as snow (Isaiah 1:16-19).
There is no way of escaping the judgment, so why deceive yourself and lose your own soul?
God says, "Also I will make justice the measuring line, and righteousness the plummet." (Isaiah 28:17)
"If the righteous one is scarcely saved, where will the ungodly and the sinner appear?" (1 Peter 4:18)
"…whatever a man sows, that he will also reap." (Galatians 6:7)
You Have Sinned
Why deceive yourself into thinking that you need not repent, and that you do not need a Saviour? Yahveh our God says that all have sinned. That includes you. To deny it is to make God a liar and Christ's death in vain. Beware!
"…by the law is the knowledge of sin." (Romans 3:20)
"So speak ye, and so do, as they that shall be judged by the law of liberty" (James 2:12)
Better look into that law (James 1:25; Exodus 20:1-17). God will judge us by His law!
Get Right with God - Now!
Why not get right with God today? He says, "Therefore turn and live!" (Ezekiel 18:32) Will you do it? The decision for your eternity is in your own hands. Jesus died that you might have eternal life. Will you accept it NOW?